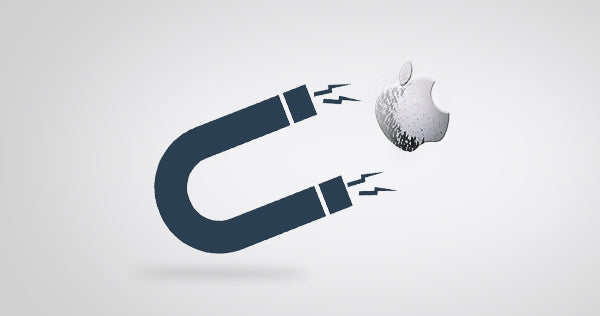 Rumor has it that Apple is going to release a pair of high-end over-the-ear headphones that will have swappable magnetic ear pads. It's not the first (and certainly not the last) time Apple has incorporated magnets to give a product unique characteristics. Some Apple products are typically magnetic, whilst others show no sign of magnetism and you can't feel any magnetic attraction.
What part do magnets play in the making of Apple products? How important are they?
What is the Importance of Magnets in Electronic Devices?
Currently there are more 'electronic gadgets' than the total population of the world, and they are becoming ever smarter to meet the demands for a more convenient and futuristic life. Thanks to their unique properties, magnets are key to making devices that are flexible and smart. But what actually is a magnet? How does it work? If you have no idea or you want to learn more, check one of my previous posts that tells you everything about them.
What Can Magnets do for Electronic Devices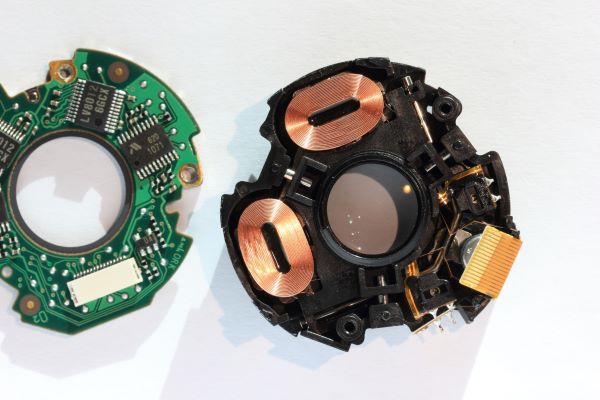 Electronic devices cannot exist without electricity which is also one of the key reasons why magnets are so vital, particularly as they are also used to generate electricity. One of their great characteristic properties is the fact that "like poles repel and opposite poles attract", which is so cool that you can play tricks with it and something which has been the inspiration for a bunch of funky gadgets. Neatly tucked inside, the magnets function silently, most of the time unseen; but you can sense the magnetic attraction when you use the device, such as opening the refrigerator doors, while for others, you won't even realize their existence. Read on and you will see that magnets play a far greater role in electronic devices than you probably realized.
Uses of Magnets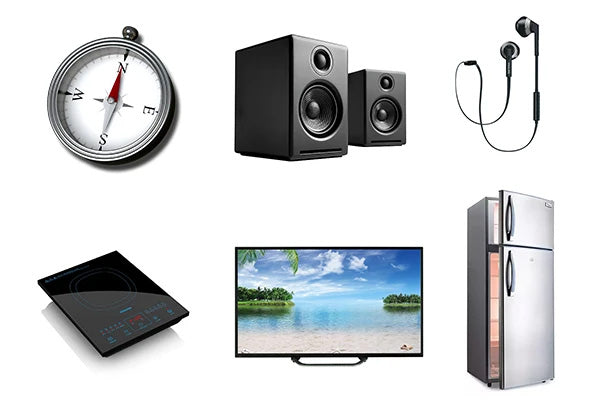 Magnets can be found everywhere in daily life, especially in the mobile devices you use.
Besides home appliances like TVs, speakers, computers, etc., magnets are also used in mobile phones and accessories like phone cases. With magnets, different types of products are made possible and life becomes more convenient. They have become an indispensable part of product design for many companies, including Apple.
What Role Do Magnets Play in Apple Devices?
As the most innovative company in the world, Apple is known for its unique product design. There is no question that this is predominately down to the great minds in Apple, but materials also play a significant part. And Apple has been using magnets to create some very extraordinary products, especially in recent years.
Magnets in the iPhone/iPad Cover: Smart Design Makes Things Easier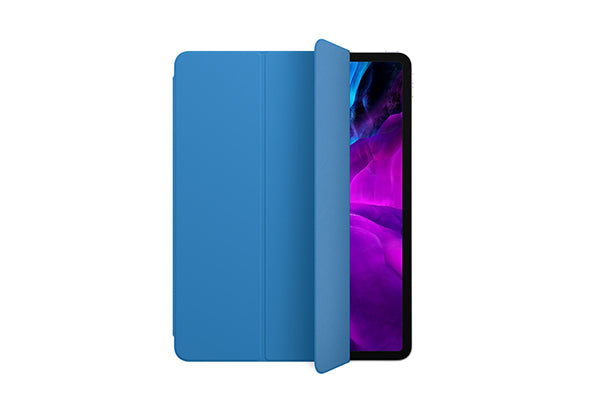 Apple doesn't just make products; it also makes accessories such as cases and covers. One of the most innovative accessories that Apple has designed in the past few years is the smart case for the iPhone or iPad which automatically wakes up when you open it and goes to sleep when you close it. How do they do it? Of course, it's down to magnets.
Magnets are embedded in the front flap of the case and aligned with sensors inside the iPhone or iPad. When the sensors detect a strong magnetic field coming close, this triggers the system to wake up or go to sleep. A deceptively simple, yet smart way to protect your device while saving time and effort to check info on the screen!
Magnets in the iPad Pro: Unlocking the Potential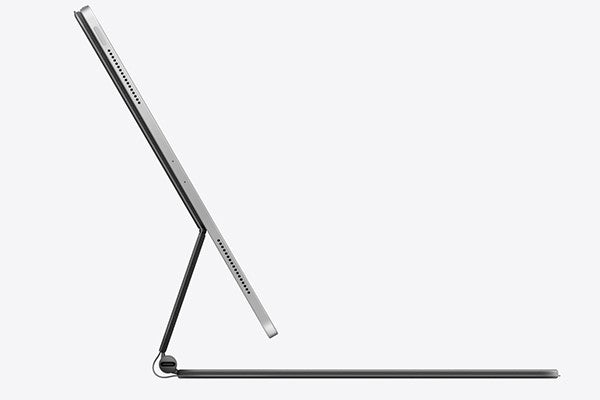 The iPad Pro is built to be the next generation of tablet design, and some of the qualities that Apple have introduced are very similar to those in a laptop. Not surprisingly, there are magnets in the iPad Pro; but you might be surprised to learn that there are over 90 magnets embedded inside Apple's next-gen tablet? How do these magnets make the iPad Pro such a great product?
From the four corners to each edge, small magnets are evenly distributed throughout the body of iPad Pro. They serve several purposes: from attaching the protective sleeve to the back, to attach the Apple Pencil to the side, attaching the Smart Keyboard or Magic Keyboard to the iPad Pro so you can type and work just like a laptop, as well as attaching the smart cover. As you can see, it's because of these magnets that the iPad Pro can work with all kinds of accessories and unlock many of its exciting features. With magnets and accessories, the iPad Pro is much closer to a laptop than ever before.
Magnets in Apple Pencil: Double Duty, Less Anxiety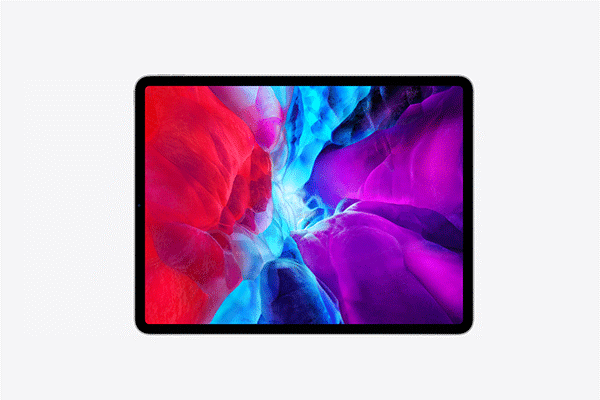 The second-generation Apple Pencil is yet another brilliant design. With a magnetic flat edge, you can easily attach the pencil to the iPad, safe in the knowledge that it will not come off even when you put it in your bag.
More than that, attaching the Apple Pencil to the side of the iPad Pro causes it to charge wirelessly. The right side of the iPad Pro (3rd/4th generation) can not only hold it tightly but also charge it. This means that as long as the Apple Pencil is docked on the side, it will be charged, ready for you to draw something stunning. Double duty, less anxiety.
Magnets in Over-ear Headphones: Freedom with no Limitations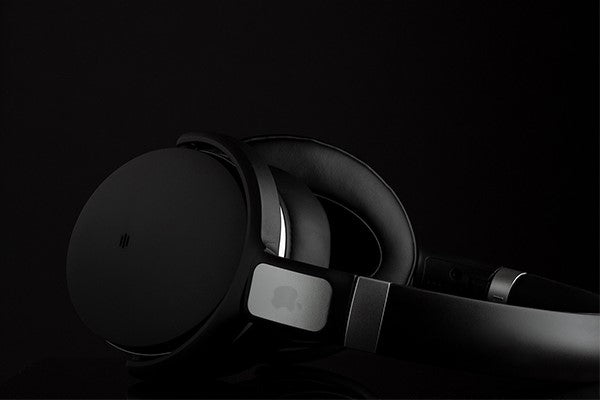 There were rumors years ago that Apple would make it's own-brand of over-ear headphones, but that never materialized. Recently however, serial leaker Jon Prosser, revealed that Apple is about to release a pair of over-ear magnetic headphones in June. According to Bloomberg, you will be able to replace the ear pads and headband padding because they will be magnetically attached to the frame of the headphones. To replace them, you just need to exert a little force, pull the pads off from the frame, place the new pads close to the frame and see them align automatically. If these leaks are true, it shows just how convenient it will be to swap between different styles of headphones.
Simply put, magnets are vital in Apple product design. As a matter of fact, they are a necessary part of design for many other companies including PITAKA.
What Benefits Do You Get from An Ecosystem Built on Magnets?
PITAKA is a pioneer of utilizing high-tech materials in conjunction with intelligent design to simplify your life. Of all the materials used within PITAKA designs, magnets are an indispensable component part. From phone charging in different scenarios to home organization, the PITAKA ecosystem has covered many aspects of your daily life. With ingenious design, convenience and simplicity, you will be amazed how good magnets really are.
How does this magnetic ecosystem work? How does it make your life more convenient?
Make the Most Out of Your Phone with an Aramid Phone Case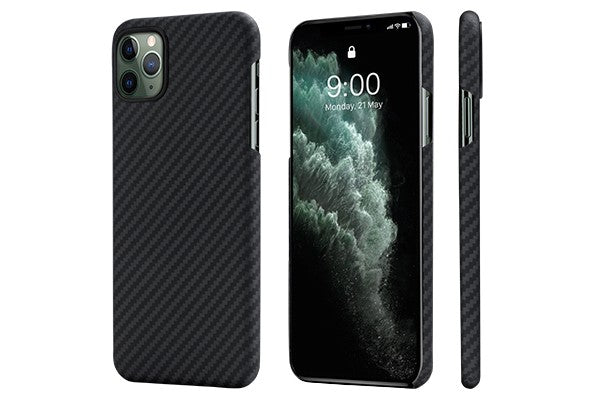 PITAKA started by making military-grade aramid phone cases which are insanely durable and sleek.
One of its unique features is that the thin protective MagEZ Case is also equipped with two metal plates. The purpose is to enable it to attach to other devices that have magnets within them, this makes it easy to use and charge your phone in different situations. The Aramid phone case is one of the corner stone pieces in the PITAKA ecosystem providing intelligent integration as more products are released.
Enjoy A Seamless Magnetic Wireless Charging Experience
After the phone case, the next essential accessory for a mobile phone is the charger. PITAKA has released a number of different wireless chargers with magnets built in, such as the MagEZ Mount Qi, the MagEZ Mount Qi Desktop and the MagEZ Juice. All designed to work flawlessly with the MagEZ Case.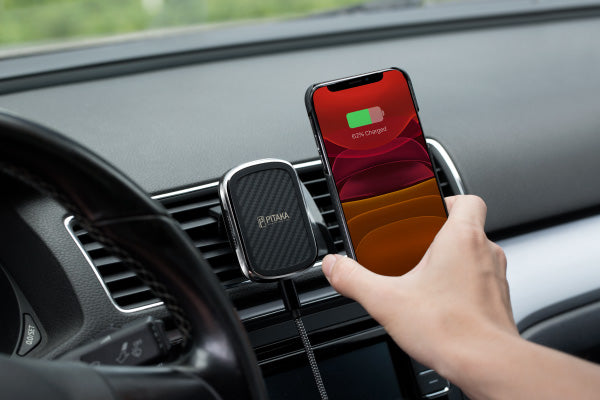 The MagEZ Mount Qi is a versatile car mount that supports fast wireless charging. Small magnets are carefully distributed over the surface, tightly holding your phone in the MagEZ Case throughout any road conditions, keeping your car organized whilst driving. Meanwhile it charges your phone (or fast charges if your phone supports that) which means that you can get a fully charged phone within three hours whilst on the road.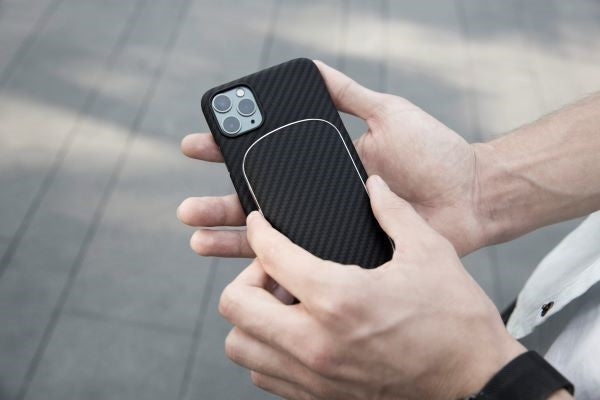 The MagEZ Juice is a revolutionary power bank unlike any other wireless power banks. You don't have to manually align your phone manually to charge. The MagEZ Juice is magnetic, so you just attach it to your phone with the MagEZ Case and enjoy automatically aligned, seamless charging. You can just throw the power bank and your phone in the bag, and they will cling to each other.
The Bottom Line
The distinctive property of magnets makes them a ubiquitous part in almost every electronic device. And through various uses of magnets, there are so many creative and useful gadgets to choose from. Apple is one of the big names that uses magnets to great effect, and the role that magnets play in Apple devices has grown and will continue to grow.
PITAKA is a brand that designs unique products which incorporate many innovative uses of magnets, and capitalize on its magnetic ecosystem. If you want to use and charge your phone while driving, on-the-go, anywhere, anytime; if you are interested in organizing and simplifying your life in the easiest way; the PITAKA ecosystem is the only one you need.
Say goodbye to the stress and say hello to the ease and security of an ecosystem that you will not want to leave, the PITAKA ecosystem is truly, "magnetic".
---
---