Without a doubt, the desk is one of the places where you spend long hours, especially at work. Maintaining productivity becomes quite challenging when you are working in front of a messy desk, which only leads to messy thoughts and frustration. Rather, a simple workspace can help increase productivity and improve your day-to-day by focusing on what adds to it.
Not everyone works the same way and there's no one-size-fits-all approach. Yet, whether you're a full-time professional, blogger, photographer, designer, or anything else in between, a simple and minimal desk setup is good enough for all to improve productivity.
While you are searching for desk setup ideas, you might have a hard time picking up the idea of the desk layout, pairing it with the right equipment, and choosing handy desk accessories. This article will present ten essentials that are fit for almost all desk setups to improve your productivity.
1. PITAKA MagEZ Slider - Naturally Charged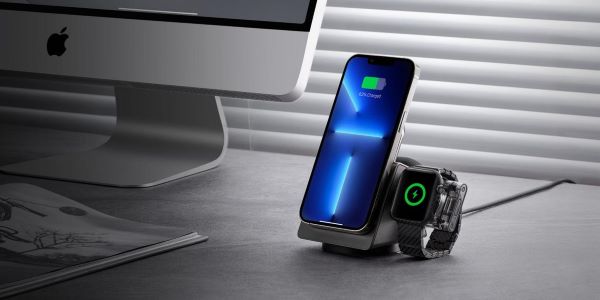 All desk setup ideas would be incomplete without a MagEZ Slider from PITAKA if you're a big fan of Apple.
Having order in your life, with fewer distractions, can keep you on track to live and work more efficiently. It's inevitable that everyone needs to charge their devices on their desk. With the MagEZ Slider's compact desktop charging system, conserve space and live clutter-free while charging any iPhone, an Apple Watch, AirPods Pro, or AirPods 2 with a wireless charging case. It's able to charge your Apple essentials, save desk space, and curb cable chaos, all with one compact charger, like most multi-device wireless chargers do.
What makes PITAKA MagEZ Slider different from the other multi-device wireless chargers is its modular design and rotary base. The modular design allows you to add or remove the power bank, AirPods stand, and Apple Watch dongle, depending on your needs.
Its rotary base allows 360-degree access to all your devices with a simple spin. What's more, when you feel your mind is over-stimulated, simply get some relaxation with a simple spin.
2. PITAKA Air Omni - Charge Multiple Devices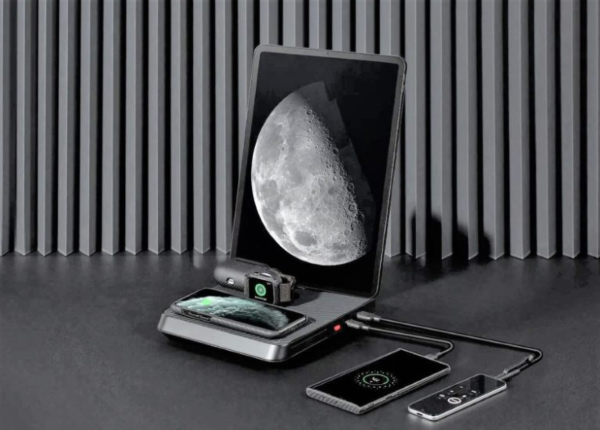 PITAKA Air Omni is a 6-in-1 wireless charger. That said, if you include it in your desk setup item list, you could charge almost all your devices - like iPhone, Android devices, Apple Watch, AirPods and Samsung Ear Buds, iPad, and more simultaneously without seeing lots of cables spreading on your desk; and further, without guessing which is the right cable when you need to charge your devices.
How awesome is the Air Omni for a minimal desktop setup.
3. High-Quality Lighting - Boost Natural Light
If you want to optimize your desk setup, improving lighting is a huge priority. In addition to giving its magic touch in terms of aesthetics, proper lighting has the potential to change your mood and maximize your energy, concentration, and memory function. Our bodies need exposure to very bright light daily to maintain our sleep-wake cycle. The quality of our indoor lighting, therefore, determines the quality of our sleep, and consequently our productivity and well-being.
4. Monitor Arm/Dual Monitor Arm - Enable Precise Positioning
It is essential that you correct your sitting posture to work more effectively and efficiently. A keyboard and laptop stand-in desktop setup ideas help you achieve that. It helps you place your laptop at an accurate angle to avoid any muscle strain. Therefore, when you need to work longer hours, your body wouldn't get fatigued that easily.
5. Greenery/Artificial Plants - Relax Over-Stimulated Minds
It's highly recommended that you place some greenery as part of your desk setup. It can not only relieve eye fatigue but relax your over-stimulated mind.
Researchers from the Denmark's University of Aarhus found that greenery most strongly protects against mood disorders, depression, neurotic behavior, and stress-related issues. The effect of green space is also dose-dependent, meaning those who have longer exposures to green space have greater mental health benefits.
6. Multiple Monitors - Dual Screens, Double Strength
Having dual screens is a very pro recommendation for your desk setup. It will give you a notable leap in quality to your workspace. This is not a whim; in fact, you can even have a large screen instead of buying two (plus, you will have fewer cables). It doesn't matter which of these office desk setup ideas you choose. The truth is that your work will be more efficient, especially if you usually have different applications open at the same time.
7. Desk Shelves/Shelving - Create More Storage Space
Desk shelves and shelves are essential for the desk setup. They are sure to help you manage your messes or conceal desk items that are used relatively less, such as a stapler, pins, transparent tape, and more. That is, the contribution of shelves is to minimize the things that pile up on the desk, giving you a concise desktop setup and consequently improving your productivity.
8. PITAKA MagEZ Stand for Tablets - Turn iPad into Mac
If you have an iPad, owning a PITAKA MagEZ Stand for Tablets is an ideal desk setup idea. Not only can it make your desk look concise and clean, it can turn your iPad into a second or third screen. Simply set up your tablet with a Bluetooth keyboard and mouse to use it as a second screen for project management or video meetings.
What's more, PITAKA MagEZ Stand is designed ergonomically for eye level. It allows you to work comfortably on or view your tablet screen at the perfect position, improving your posture and reducing back and neck strain.
PITAKA MagEZ Stand will be a good helper in improving your productivity.
9. Cable Organizers and Gutters - Manage Cables
At the beginning of the article, two wireless chargers are introduced to lessen cables. The reason why cable organizers and gutters are presented here is to handle the cables coming from computers and monitors. Though these cables, generally speaking, are not on the desk, they will always be at the back of the desk which might cause some disturbance when working. For example, you might kick the cables and result in a black screen. Thus, cable organizers and gutters are inconspicuous but important gears for the desk setup.
10. Desk Organizer Tools - Handle Odds and Ends
Dealing with the odds and ends on your desk is sustained work in desk setup. It is barely possible for us to realize how and when a pen or a paper clip or some others appears on the desk when we concentrate on our work. In this case, we need some desk organizer tools to help us categorize them within seconds. Let's say if we have a pen container, we can put the pen into it without a second thought so as to decrease our time and energy on organizing our desk and focus more on our work.
Desk Setup Ideas Conclusion
To maintain a higher productivity level, everyone can adopt certain simple alterations to your workspace to eliminate clutter in general. Following the above 10 desk setup ideas could gradually transform your workplace and make it an inspiring site where you do your best work!
Don't be lazy and get started now!
References:
https://everhour.com/blog/desk-setup/
https://www.autonomous.ai/ourblog/10-computer-desk-setup-ideas-for-small-home-office
https://earthobservatory.nasa.gov/images/145305/green-space-is-good-for-mental-health
https://www.colebrookbossonsaunders.com/what-is-a-monitor-arm/
---
---